A PERSONAL ACCOUNT: mixing naturopathic & medical treatments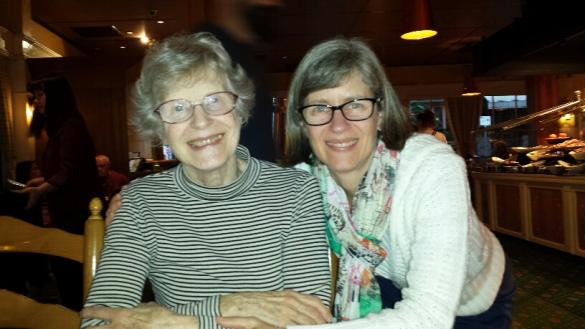 This story is about my Mom.  I write it with her permission.  And if at any stage you lose interest in the story, please skip to the end, and read my final message.
Mom was born 2 months premature.  Weights of babies were not recorded back then, but apparently she was dressed in dolls clothes.  Mom was never impressed when her mother said "she was not strong".  And anyone who knows my mother will know what an amazing strong person she is.  However, her health has presented her with many a challenge over the years.
Mom's first health challenge came in her early 30's when I was just 2.  She had been sick on and off for a while with sore throats, a cough, and general feeling of malaise.  After repeated visits to her doctor, she was told she was a hypochondriac, and sent home to get on with life.  A family holiday away from home, and a visit to a doctor while on holiday had her diagnosed with drug-resistant tuberculosis (TB).  By this time she was almost bed-ridden she was so unwell.  Two years of pharmaceutical medications followed.
Some twenty five years later, Mom was getting frequent bronchitis, and then got pneumonia.  I was caring for her at home, and at that time doctors still did home visits.  I was looking after Mom and was terrified one night when she collapsed in the bathroom, weak and short of breath.  The coughing and breathlessness was frightening and I felt quite inadequate and helpless in the situation.  I can still remember Mom saying "I'll be alright dear, you go back to bed"!  As if I was going to leave her lying on the cold bathroom floor, unable to get up, and go and get a good night sleep!  The next day when the doctor came for his daily visit, I tentatively suggested he test for TB.  He did, and Mom did have TB again.  This time, 6 months of pharmaceutical medications followed.
A few years on, and Mom was diagnosed with breast cancer and chronic lymphocytic leukemia.  Mom endured 6 rounds of chemo, and hated every minute of it.  To this day, she says she will never do intravenous chemo again.  I lived with Mom for the 6 months of treatment, and it has given me a greater empathy and understanding of what people truly go through when experiencing these treatments.  By this time in my life I was interested in natural therapies, and Mom already had a homeopath/naturopath who she had seen for many years.  We used both homeopathy and naturopathy to support Mom through the nasty side-effects of chemo, and to help her body heal and recover afterwards.  We continued to use natural therapies to keep Mom as well as possible. 
Not long after this, I started studying to become a naturopath myself, and was determined to keep Mom well and as healthy as possible, despite the leukemia, which was not going to go away, but had to be managed.  I have not done this alone.  I am too close to Mom, and too emotionally involved.  However, with the help of a colleague, Brett Friedmann, we have kept Mom as well as possible, and supported her through a few months of oral chemo that became necessary at one stage.
And then, just as we were going along well, Mom woke one Christmas morning and haemorrhaged a lot of blood from her lungs.  Mom being Mom, she decided not to worry anyone until the public holidays were over.  Fortunately she told a friend who she was due to have Christmas lunch with.  Even more fortunately the friend's son was a medical specialist, and insisted Mom get immediate medical attention.  2 hours later Mom was sitting in ICU at hospital, eating the worst Christmas lunch of her life, and feeling rather foolish as she did not even feel particularly unwell!  She was definitely the only person on the ward eating real food.  The scar tissue in her lungs where the TB had been haemorrhaged, and if it happened again, she could drown.  6 weeks later she had massive surgery to remove half her lung.
Four years ago, Mom was diagnosed with a rare non-contagious form of TB, called "Mycobacterium Avium Complex" (TB-Mac), or "mac-bugs" as we came to call it.  This bacteria would never cause a problem for a healthy person, but can be problematic in those who are immune compromised, as Mom is with her leukemia.  The treatment available would last 2 years, had horrendous side-effects affecting vision, the liver, and other things I can no longer remember.  There was only a 50% chance it would work, and the mac-bugs would definitely come back.  Mom declined the treatment, and we went home and as advised, put Mom's affairs in order.  It was an incredibly difficult time emotionally, and Mom was really unwell, spending a lot of time in bed.  Then we spoke to Brett again.  He told Mom she could not give up!  We added some specific immune support to Mom's treatment protocol.  Mom has now been in remission from her "mac-bugs" for 3 years.
Mom still has ups and downs, especially with her chest, and has had a couple of hospital stays in the last year.  We continue with natural support, and she has medical interventions when needed. 
MY MESSAGE:
My message that I want to give from this story is that without medical interventions, Mom would not be alive today.  I would not have a mother, and my gorgeous daughter would not have her beloved Granny.  However, Mom and I also strongly believe that without the support of homeopathic and naturopathic treatments, she would also not be with us today. 
To my Mom, you are amazing.  I love you.  You are always cheerful and positive.  You are the strongest person I know.  You are an inspiration.
To Brett, we are forever grateful for everything you have done for us, as a naturopath and a friend.  If it was not for you, Mom would not be here today.  You are amazing, and we consider you not only a friend, but family too (sorry about that, I know it can get a little crazy here sometimes!)
For me and Mom, I would preferred to never have experienced any of this.  But given I have, I am grateful for everything it has taught me as a person and as a practitioner.  Probably most importantly caring, compassion, understanding and empathy. 
My sincere hope for the future is that doctors and naturopaths can work more closely together for the greater good of everyone's health.
If you or a loved one has chronic health problems, don't ever give up.  And even if you cannot get rid of the problem or condition, the chances are you can manage it well, and maintain reasonable health and quality of life.  Everyone has a different story and a different outcome, but if you don't try, you will never know.
Contact me on 0431917728